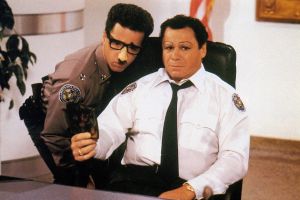 Πλήρης ημερών, σε ηλικία 84 ετών έφυγε από τη ζωή ο ηθοποιός Αρτ Μετράνο, που έγινε διάσημος μέσα από τον ρόλο του «αστυνόμου Μάουζερ» στη σειρά ταινιών «Η Μεγάλη των Μπάτσων Σχολή», όπως επιβεβαίωσε ο γιος του εκλιπόντος στο Hollywood Reporter.
Ο ηθοποιός πέθανε από φυσικά αίτια την Τετάρτη 8 Σεπτεμβρίου, στο σπίτι του στη Φλόριντα, γεμίζοντας πένθος τα τέσσερα παιδιά, τα εγγόνια και τα δισέγγονά του.
Ο Αρτ Μετράνο έχει εμφανιστεί επίσης σε τηλεοπτικές σειρές όπως «Happy Days», «All in the Family», «Bewitched», «Starsky and Hutch» και «Mod Squad».
Art Metrano, Stand-Up Comic and 'Police Academy' Actor, Dies at 84 https://t.co/l9MZy4vAFU

— The Hollywood Reporter (@THR) September 9, 2021
https://fans.trikalaweb.com/wp-content/uploads/2021/09/49253-29-424371296429-777567-01965279668132-7577386296-983972811800-07.jpg
1333
2000
Admin
https://fans.trikalaweb.com/wp-content/uploads/2020/09/fans.trikalaweb.png
Admin
2021-09-10 15:43:08
2021-09-10 15:43:08
Η Μεγάλη των Μπάτσων Σχολή – Πέθανε ο «αστυνόμος Μάουζερ»