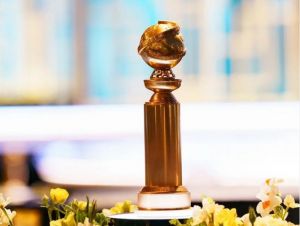 Οι δραματικές ταινίες «The Power of the Dog» της Τζέιν Κάμπιον και «Belfast» του Κένεθ Μπράνα κυριάρχησαν στις υποψηφιότητες των Χρυσών Σφαιρών, που έχουν βυθιστεί σε μια περίοδο αναταραχής και αβεβαιότητας, έπειτα από ένα κύμα επικρίσεων και μποϊκοτάζ μετά την έλλειψη ποικιλομορφίας και διαφάνειας.
Προσαρμοσμένη στις νέες συνθήκες της Covid- 19 ήταν φέτος η τελετή απονομής των Χρυσών Σφαιρών.
Η Ένωση Ξένου Τύπου του Χόλιγουντ (Hollywood Foreign Press Association – HFPA) φιλοξένησε την 79η ετήσια απονομή των Χρυσών Σφαιρών την Κυριακή, 9 Ιανουαρίου, στο ξενοδοχείο Beverly Hilton στο Λος Άντζελες της Καλιφόρνια, τιμώντας ταινίες και σειρές που ξεχώρισαν την περασμένη χρονιά.
Ενώ η τελετή απονομής θα διεξαχθεί στον παραδοσιακό της χώρο, δεν υπάρχουν πολλά για να θυμίζουν τα προηγούμενα χρόνια.
Καλύτερη Ταινία – Δράμα: «Η Εξουσία του Σκύλου»
View this post on Instagram
Σκηνοθεσία: Τζέιν Κάμπιον («Η Εξουσία του Σκύλου»)
Σενάριο: Κένεθ Μπράνα («Belfast»)
View this post on Instagram
Α' Ανδρικός Ρόλος – Δράμα: Γουίλ Σμιθ («King Richard»)
Α' Γυναικείος Ρόλος – Δράμα: Νικόλ Κίντμαν («Being the Ricardos»)
View this post on Instagram
Καλύτερη Ταινία – Κωμωδία ή Μιούζικαλ: «West Side Story»
Α' Ανδρικός Ρόλος – Κωμωδία ή Μιούζικαλ: Αντριου Γκάρφιλντ («Tick, Tick… Boom!»)
View this post on Instagram
Α' Γυναικείος Ρόλος – Κωμωδία ή Μιούζικαλ: Ρέιτσελ Ζέγκλερ («West Side Story»)
View this post on Instagram

A post shared by Savannah (@musicalsypcfan)
Β' Ανδρικός Ρόλος: Κόντι Σμιτ-ΜακΦι («Η Εξουσία του Σκύλου»)
View this post on Instagram
Β' Γυναικείος Ρόλος: Αριάνα ΝτεΜπόουζ («West Side Story»)
View this post on Instagram
Καλύτερη Ταινία – Animation: «Ενκάντο: Ενας Κοσμος Μαγικός»
Καλύτερη Ξενόγλωσση Ταινία: «Drive My Car»
View this post on Instagram
Καλύτερη Μουσική: Χανς Τσίμερ («Dune»)
Καλύτερο Τραγούδι: No Time to Die («No Time to Die»), Billie Eilish & Finneas
Καλύτερη Τηλεοπτική Σειρά – Δράμα: Succession (HBO)
A' Ανδρικός Ρόλος – Δράμα Τζέρεμι Στρονγκ (Succession)
View this post on Instagram
Α' Γυναικείος Ρόλος – Δράμα: Εμτζεϊ Ροντρίγκεζ («Pose»)
View this post on Instagram

A post shared by Lauraberth Lima, MFA (@lauraberthlima)
Καλύτερη Τηλεοπτική Σειρά – Κωμωδία: Hacks
View this post on Instagram
A' Ανδρικός Ρόλος – Κωμωδία Τζέισον Σουντέκις (Ted Lasso)
View this post on Instagram
Α' Γυναικείος Ρόλος – Κωμωδία: Τζιν Σμαρτ (Hacks)
Β΄ Ανδρικός Ρόλος: Ο Γιονγκ-σου («Squid Game»)
View this post on Instagram
Β' Γυναικείος Ρόλος: Σάρα Σνουκ (Succession)
Καλύτερη Τηλεταινία ή Μίνι Σειρά: The Underground Railroad
Α' Ανδρικός Ρόλος σε Τηλεταινία ή Μίνι Σειρά: Μάικλ Κίτον (Dopesick)
Α' Γυναικείος Ρόλος σε Τηλεταινία ή Μίνι Σειρά: Κέιτ Γουίνσλετ (Mare of Easttown)
View this post on Instagram
https://fans.trikalaweb.com/wp-content/uploads/2022/01/60795-341181493436-83397651382659-2022-9891917189-2546806911-3836-3835645129.jpg
537
712
Admin
https://fans.trikalaweb.com/wp-content/uploads/2020/09/fans.trikalaweb.png
Admin
2022-01-10 14:46:22
2022-01-10 14:46:22
Χρυσές Σφαίρες 2022 – Αυτοί είναι οι μεγάλοι νικητές της χτεσινής βραδιάς